News
What is Kashmir Issue? Is there any solution of Kashmir Issue?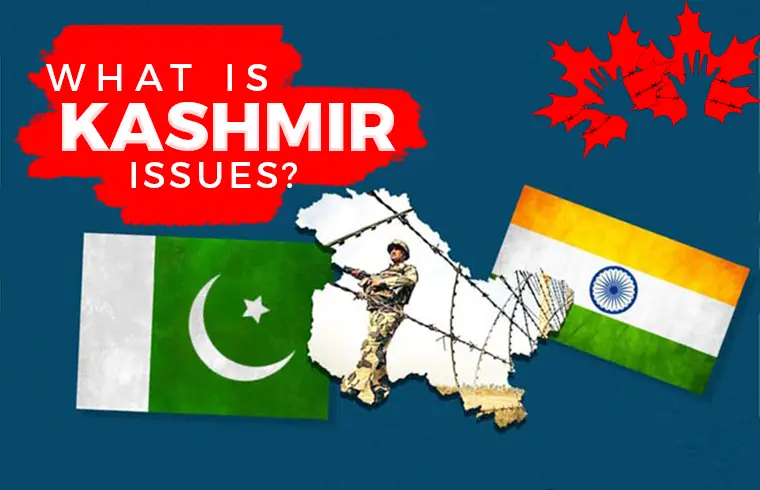 Kashmir issue is one of the most long awaited dispute between Pakistan and India since 1947. The territory includes Jammu, Kashmir and Ladakh, where Ladakh issue is between India and China. These territorial conflicts turned up at the time of division of Indian subcontinent into two independent countries, India and Pakistan. Now what is Kashmir Issue? India says Kashmir is part of India while Pakistan claims it is integral part of Pakistan because of Muslim majority in that region.
Geography of Jammu & Kashmir
Indian occupied Jammu, Kashmir and Ladakh are situated in north region of Indian subcontinent in middle of China, Pakistan and India. Its geographic importance can be estimated by its mountains, beautiful valley, pine forests and most importantly 5 major rivers (Jhelum, Indus, Tawi, Ravi and Chenab) that flows from this region.
Total Area is 222,236 km2.
Population of 12.55 million in 2011.
Official Language is Urdu.
Capital: Srinagar (May-October) Jammu (November-April)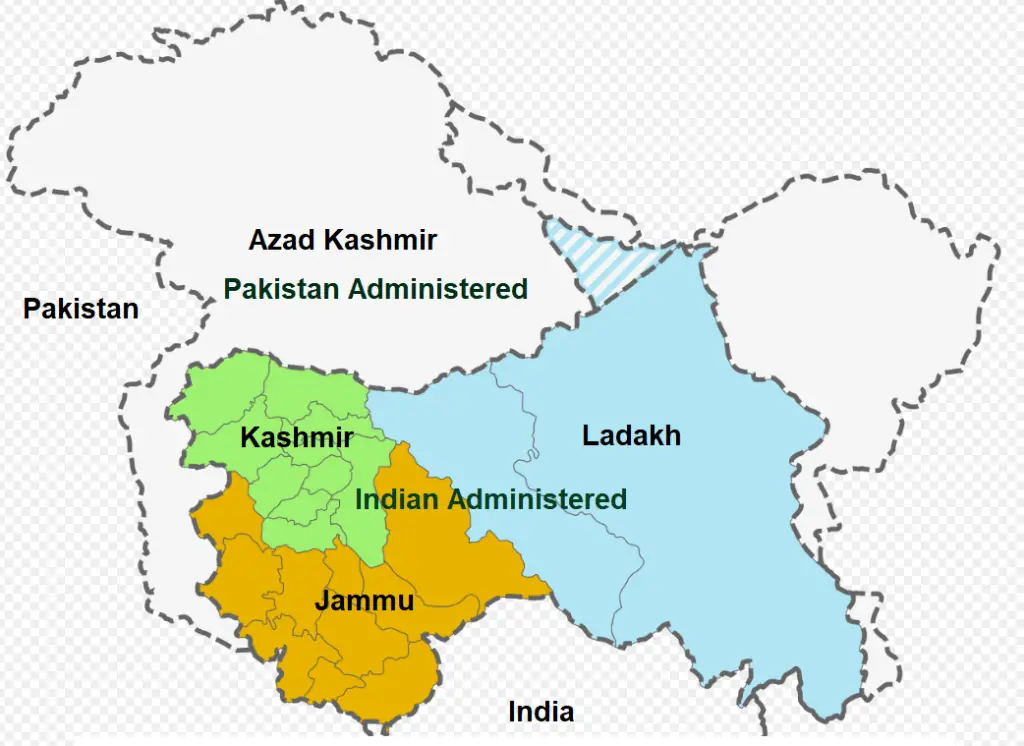 ---
Religions in Jammu and Kashmir (2011)
---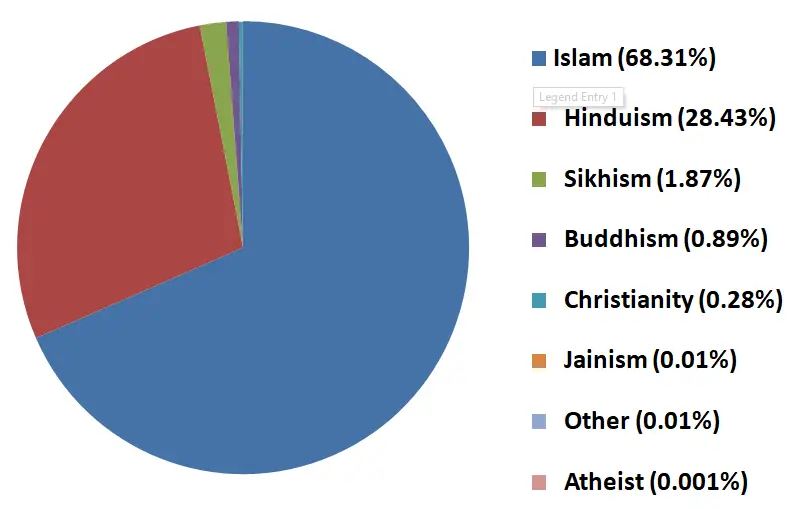 Glimpses of History of Kashmir Issue:
The story of Kashmir issue started in 1947 when British Raj ended and Mountbatten was sent to divide Indian subcontinent into two Independent countries on principle basis of Hindu majority regions into India and Muslim majority regions into Pakistan or remained as independent states.
The history of Jammu and Kashmir is, it remained as independent state most of the time. But bad luck with people of Kashmir that they had been taken over several times by Sikhs and Hindus. Maharaja Hari Singh was the last ruler of Dogra Raj at the time of partition in 1947.
Hari Singh, being a Hindu, wanted to join India but 77% Muslims majority wanted to join Pakistan in 1947.
Due to Maharaja's inclination to India and his oppression, rebellious citizens of western districts of the state and Pushtoon tribesmen invaded the state on 22 October 1947. After this strong movement things were out of control from Maharaja's hand. Maharaja called military help of India to suppress the rebellions.
On 27 October 1947, India sent their armed force to Kashmir after an agreement with Maharaja Hari Singh.
First Indo-Pak War on Kashmir (1947)
As a result first war was started between Pakistan and India which lasted until the end of 1948.
First Mediation of UN
India took this matter to raise in United Nations on 1 January 1948. After one year on 1 January 1949, UN helped enforce cease fire between Pakistan and India. A boundary line is drawn which is called LOC (Line of control).
The UNSC (United Nations Security Council) Resolution of 21 April 1948 says, "both India and Pakistan desire that the question of the accession of Jammu and Kashmir to India or Pakistan should be decided through the democratic method of a free and impartial plebiscite".
UNSC mediated by its several Resolutions; Resolution 38, Resolution 39, Resolution 47 and Resolution 51 which were mutually agreed by Pakistan and India.
Further Mediation of UN
United Nation mediated several times to bring peace in the region but no permanent solution has been sought out yet. Other Resolutions of UNSC are Resolution 80, 1950; Resolution 91, Resolution 96, 1951; Resolution 98, 1952, Resolution 122, Resolution 123, Resolution 126, 1957; and Resolution 209 Resolution 210 Resolution 211 Resolution 214 Resolution 215, 1965; and then Resolution 303 Resolution 307, 1971.
Second Indo-Pak War (1965)
Second war started in 1965 between Pakistan and India on Kashmir Issue. But the problem was not solved by this war instead United States and Soviet Union had to mediate this issue. For that, a meeting was held from 4-10 January 1966 in Tashkent Uzbek SSR to sort out some more likely to permanent solution. On 10 January 1966, "Tashkent Agreement" was signed between Muhammad Ayub Khan (President of Pakistan) and Lal Bahadur Shastri (Prime Minister of India).
It is fact that there is no border between India and Pakistan, just a line of control is there. Tension always remained on LOC due to firing from both sides. Many people lost their lives due to this tension.
Third Indo-Pak War (1971)
Third war started in 1971 when a political crisis has been created in Pakistan which escalated to civil war in East Pakistan. In March 1971, Indian invaded East Pakistan and both armed forces were head to head which led to separation of East Pakistan as "Bangladesh".
On 2 July 1972, Shimla Agreement, was signed by Indira Gandhi (Prime Minister of India) and Zulfiqar Ali Bhutto (President of Pakistan) as peace treaty in Shimla.
Both countries became nuclear powers, India in 1974 and Pakistan in 1998.
Fourth Indo-Pak War (1999)
The fourth war between Pakistan and India was started in 1999 at Kargil district of Kashmir in which Pakistani force almost defeated the Indian army. But Indian government after some reluctance appealed to United States for its involvement.
Bill Clinton, U.S. President asked Nawaz Sharif, P.M. Pakistan to pulled back armed forces. In this way war ended and India regained the Kargil district.
On 21 Febuary 1999, a bilateral agreement "Lahore Declaration" was signed by Atal Bihari Vajpayee (Prime Minister of India) and Nawaz Sharif (Prime Minister of Pakistan) as peaceful governance treaty.
But unfortunately the clash has not been solved yet and Kashmiri people are seeking for their basic right of freedom. Indian armed forces oppressed Kashmiri freedom activists and general public from 1947 uptill now.
"Human rights abuses in the Indian state of Jammu and Kashmir state are an ongoing issue. The abuses range from mass killings, enforced disappearances, torture, rape and sexual abuse to political repression and suppression of freedom of speech. The Indian Army, Central Reserve Police Force (CRPF), Border Security Personnel (BSF) and various separatist militant groups have been accused and held accountable for committing severe human rights abuses against Kashmiri civilians."

Wikipedia
What is Article 370 ?
Article 370 is the section of constitution that gives significant autonomy to Kashmir on the basis of Maharaja of Kashmir joined India in 1947. This article allows Kashmiri people to make their own rules and regulations except Finance, Foreign Affairs, Defense and Communications.
That means Kashmir has special rights and privileges over rest of the India because they can live with different laws according to their own legislation. Such as property ownership and citizenship.
Revoking Article 370 Means ?
India decided to split up into two parts; one as Jammu & Kashmir and second as Ladakh which will be directly governed by New Dehli. Revoking article 370 means Special status of Indian Occupied Kashmir is now null and void and anyone can get ownership of property in Kashmir.
"Modi's Government planned to incorporate Hindu community in Muslim Majority areas in Jammu and Kashmir. So that the ratio of Muslim community would be suppressed by killing Kashmiri people specially men (genocide) and by abandoning the houses and land forcefully to move them from Kashmir."

Kashmiri Freedom Activist
World is now on tenterhooks because of increasing tension between two nuclear powers that may escalate not only to regional catastrophe but also to rest of the world.
Solid Dispute Reasons
Actual reason of Kashmir dispute between two countries is its geographic Importance and the people of Kashmir, they want freedom. India wants Kashmir to see barren Pakistan, occupying on river waters and Pakistan wants Kashmir for its survival as well as sympathy with majority Muslims of Kashmir.
Another way to look into this matter; why lingering on Kashmir issue so far? Who are those getting benefits from this sustained dispute? Obviously both countries are using heavy weapons to fight with each other and from where the weapons are coming? Yes, America, Russia, Israel and China are selling their weapons to both countries. What do you think? Give your opinion in comment box at the end of this article.
Solution for Kashmir Issue
The only peaceful solution of this dispute is to organize referendum under the UNSC Commission as soon as possible according to the resolution of UNSC. Jammu, Kashmir and Ladakh should be given their fundamental rights now because till July 2019, almost 40,000 Kashmiri people has been killed. Both counties should sit and make a dialogue to solve this problem quickly and permanently because they are humans and have equal rights as humans in rest of the civilized world.
---
General FAQs
What is Kashmir?

Kashmir is the northernmost geographical region of the Indian subcontinent. Its left as un-resolved issue by British.

What is Kashmir Issue?

India says Kashmir is part of India while Pakistan claims it is integral part of Pakistan because of Muslim majority in that region.

Is Kashmir a part of India or Pakistan?

Well currently some part of Kashmir is under Pakistan as a separate state named as Azad Kashmir, and on some part of Kashmir India has occupied, called as Indian Occupied Kashmir(IOK).

Is Kashmir part of Pakistan?

Some part of Kashmir is under control of Pakistan as an independent state, named as Azad Kashmir, while some part of Kashmir is occupied by India, called as Indian Occupied Kashmir (IOK).

Why was Kashmir not given to Pakistan?

Well, Under the partition plan provided by the Indian Independence Act, Kashmir was free to accede to India or Pakistan. As majority of Kashmiri are Muslims, so they wanted to join Pakistan but The maharaja (local ruler), Hari Singh, chose India.

Which is the capital of Kashmir?

Srinagar is the capital of Indian Occupied Kashmir, while Muzaffarabad is the capital of Azad Kashmir.

What is meant by Article 370?

Article 370 of the Indian constitution gave special status to the region of Jammu and Kashmir. This Constitution (Application to Jammu and Kashmir) Order, 1954 was issued by President Rajendra Prasad under Article 370, with the advice of the Union Government headed by Jawaharlal Nehru.

Can Article 370 be removed?

No if its removed, then it will be horrible for India. Mattoo said, "If Article 370 is removed, our relationship with India will end. It means Kashmir will become Azad (free). India will have to remove its troops from the state.
You would also love to read similar post below.