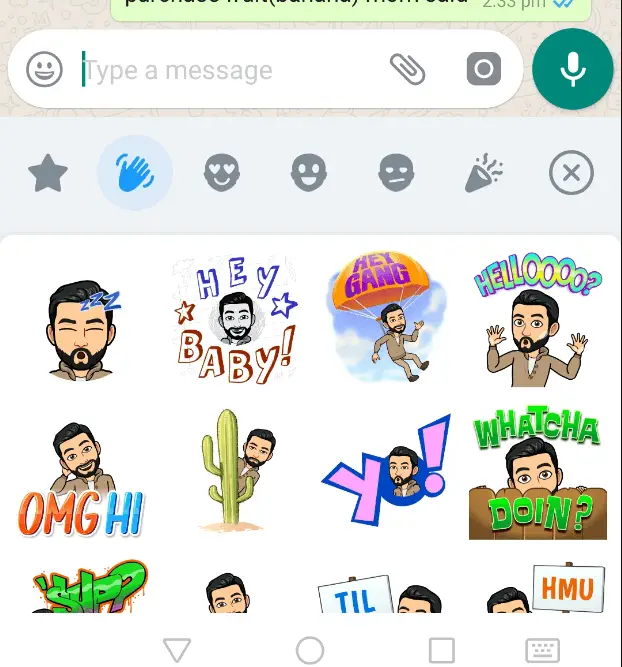 Since Bitmoji came under controls of Snapchat, it became very popular. Its trendy these days and many people want to use it on their devices and to use in their chat application. By default bitmoji is the part of Snapchat, but one can use it with many other chat applications too. Today we will discuss how to use Bitmoji on WhatsApp for Android. But before this, if you are un-known to bitmoji then please first check What is Bitmoji?
Follow the steps given below carefully to link Bitmoji with WhatsApp [Android].
Go to Google Playstore and search for "Bitmoji". Find Bitmoji by Bitstrips.

Click on Install button and install the app. Its about 40mbs, will take few minutes to download(3G).

On successful installation, you will be asked to create bimoji account.

If you have already installed Snapchat, you can still use it and login with snapchat. On successful login, you will be asked to choose your gender and profile picture(selfie).

Go to settings from your android Phone & open "Language & Input" And choose Bitmoji Keyboard.

After successful profile creation on bitmoji app, now you are all set to setup bitmoji keyboard. As you select it, you will see a prompt, click on "Ok" button.

You have done, now open WhatsApp and start enjoying.

If you have installed more keyboards on your mobile, then choose Emoji keyboard as default or you will need to switch your keyboard while typing to Emoji Keyboard. Now you are ready to use Bitmoji on WhatsApp.
Tools
Bitmoji emojis by Bitstrips
Bitmoji on WhatsApp
All set enjoy bitmoji and send messages to your friends. You will need to make sure that you friend should also installed bitmoji app on device, otherwise he will be unable to see your bitmojis.
Can i use bitmoji on Android?

Yes you can use bitmoji on Android even on WhatsApp.