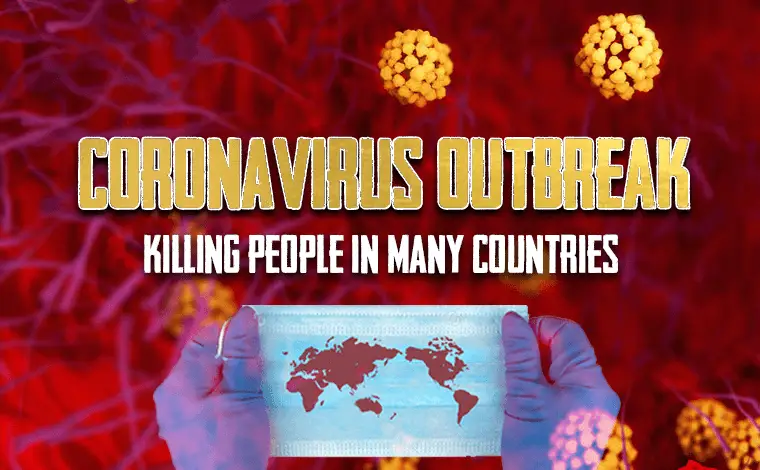 Coronavirus outbreak's fast spread is a great concern to global health officials.
In December 2019, a pneumonia outbreak was reported in Wuhan, China. On 31 December 2019, the outbreak was traced to a novel (new) strain of coronavirus, which was labeled as "2019-nCoV" by the World Health Organization (WHO).
According to World Health Organization, over 125,000 infected cases are reported from 118 different countries in the world and more than 5,000 people died due to novel coronavirus. But the real number may exceed.
United States confirmed its first case of person-to-person spread of Coronavirus on January 30, 2020.
While 987 people are infected with novel coronavirus in United States till today (March 13, 2020).
Coronavirus fast spread is becoming a global concern. First coronavirus spread from Wuhan to other cities in China then to other counties as well.
Spread is obviously due to infected passengers' travelling from china to other countries. Till date (March 13, 2020) almost 118 countries reported confirmed cases of coronavirus.
Top 10 Most Affected Countries
According to World Health Organization following countries are most affected by coronavirus as on Friday (March 13, 2020):
Iran (Islamic Republic of) :10075 cases
Republic of Korea :7979 cases
United States of America :1264 cases
Before January 30, 2020, WHO said, it's not a global emergency. While after another 38 people died from novel coronavirus in China, WHO calls an emergency meeting on Thursday (January 30, 2020) to decide whether to declare the coronavirus epidemic an international public health emergency.
In that meeting, the Committee declared Public Health Emergency of International Concern.1
Novel Coronavirus is Pandemic Disease Now
The director general of World Health Organization characterized global COVID-19 outbreak as a pandemic on March 11, 2020.
We have never before seen a pandemic sparked by a coronavirus. This is the first pandemic caused by a coronavirus.

Director General of WHO
Canadian PM's wife is infected
Coronavirus History
It's not the first time coronavirus killing hundreds of humans.
In 2003 over 8,000 people were infected in 37 different countries, but mostly in Southeast Asia, with 10% mortality.2
While in 2012 coronavirus affected more than 1,000 patients with over 35% fatality since its emergence in Middle East.3
In July 2015, the outbreak in South Korea killed 36 people and infected 186 patients in hospital-associated cases associated with the first imported case arising from travel to the Middle East.4
What is Coronavirus?
Coronaviruses are a group of viruses that cause diseases in mammals and birds. These are commonly found in animals (like Camels, Cats, Dogs, cattle) and birds (like Bats, turkeys, guinea fowls, quails).
Coronavirus is zoonotic which means it can easily transmitted between animals and humans.
Rarely animal coronavirus can infect people but once it infect any person it spread very fast to other people.
These viruses are named because of their crown like shape. In humans, the viruses cause respiratory infections which are typically mild including the common cold but rarer forms like SARS, MERS and 2019-nCoV can be lethal.
Types of Coronavirus
According to CDC (Centre for Disease Control) there are 7 coronaviruses:
1- 229E
These are alpha coronaviruses. Human Coronaviruses 229E are tough viruses and remain infectious on common touch surface materials.5 In humans these viruses cause acute respiratory disease.
2- Coronavirus NL63
This coronavirus is alpha-coronavirus was first identified in late 2004 in a seven month old child with bronchiolitis in the Netherlands.
3- OC43
OC43 are beta-coronaviruses. In adults, 229E and OC43 viruses account for 4% to 15% of acute respiratory disease annually and up to 35% during peak periods.6
4- Coronavirus HKU1
This virus is beta-coronavirus which is single stranded RNA virus. Coronavirus HKU1 was discovered in January 2005 in two patients in Hong Kong.
5- Coronavirus SARS
Coronavirus SARS is beta-coronavirus that causes severe acute respiratory syndrome, or SARS-CoV.
6- Coronavirus MERS
This is also a beta-coronavirus that causes Middle East Respiratory Syndrome, or MERS-CoV.
7- 2019 Novel Coronavirus (2019-nCoV) / Wuhan coronavirus
This coronavirus is discovered in current outbreak of novel coronavirus (2019-nCoV) that was first reported from Wuhan, China, on 31 December 2019.
Coronavirus in Cats
In cats Feline coronavirus (scientific name) is responsible for infection. Feline coronavirus is a positive-stranded RNA virus. This virus belongs to the species Alphacoronavirus 1 of the genus Alphacoronavirus.
Coronavirus in Dogs
While in dogs Canine coronavirus (scientific name) is responsible for causing infection. Canine coronavirus belongs to the species Alphacoronavirus 1 of the genus Alphacoronavirus that causes a highly contagious intestinal disease worldwide in dogs. It was discovered in 1971 in Germany during an outbreak in sentry dogs.7
Novel Coronavirus Vaccine
People are seeking the vaccine to prevent from 2019 novel coronavirus. At the same time researchers and many pharmaceutical companies including Johnson & Johnson, Moderna Therapeutics and Inovio Pharmaceuticals are in race to develop vaccine for new Coronavirus.
Right now there is no vaccine available for this novel coronavirus. But it may be available within 6 months (summer 2020) due to fast research and competition between pharmaceutical companies.
Treatment of Novel Coronavirus
There is no specific treatment for disease caused by a novel coronavirus. However, many of the symptoms can be treated and the treatment is based on the patient's clinical condition. Moreover, supportive care for infected persons can be highly effective.8
No doubt it's a serious matter but Do you really need to panic? Read this article.
World Health Organization Dashboard of Novel Coronavirus
(This article has been revised on March 13, 2020.)