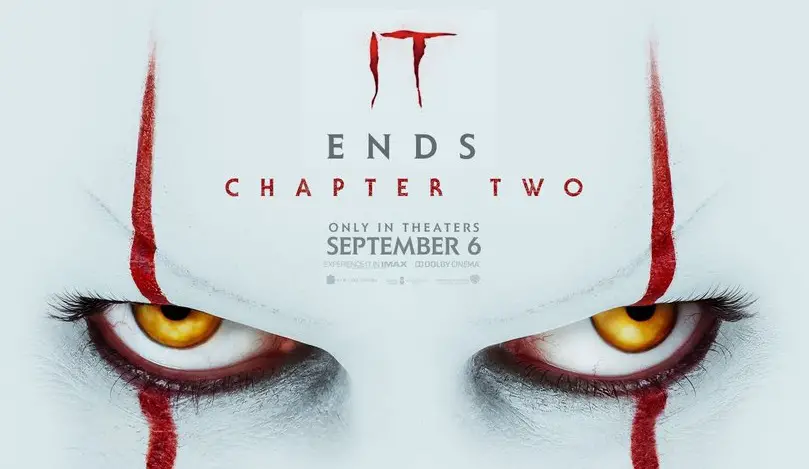 ---
September Blockbuster
IT: Chapter Two 06 September 2019
---
Story of "IT" is based on Stephen King's novel IT 1986. IT movie Chapter-I in 2017 covered half of the novel. Well, after the successful business of IT (2017; Gross Income=$700.4 million vs. Production Budget= $35 million Net Profit=$294 million) New Line Cinema (A Warner Media Company) presenting IT: Chapter Two 06 September 2019.
Genre:
Horror, Thriller
Written BY:
Gary Dauberman
Directed By:
Andy Muschietti
Produced By:
Barbara Muschietti
Dan Lin
Roy Lee
Starring:
James McAvoy
Jessica Chastain
Bill Hader
Isaiah Mustafa
James Ransone
Jay Ryan
James Ransone
Bill Skarsgard
Andy Bean
Release Date:
September 6, 2019
Language:
English
Distributor:
Warner Bros. Pictures
Screenplay:
Gary Dauberman
---
While watching the trailer of IT Chapter 2 you can see that all the kids are now grown up after passing 27 years. Loser group is seen reunited on the dinner table but there is one person who is missing from that table; Stan. Jessica Chastain is seen in huge blood of 4500 gallon in a horror scene. She says it would be a world record of bloodiest scene ever in horror movies. The horrible voice of IT create more Fear when he says, "For 27 years I dreamt of you, I craved you, I've missed you". It seems more TERRIFYING scenes in this Chapter 2 than Chapter 1.
---
Chapter 2 will clear that Henry Bowers was really dead? And who was the boy drowning in the sewage tunnel? Why all the loser group is linking hands like oath taking scene in the first movie? What happened to Stan? Let's see what viewers have opinion about this movie. Whether it would a blockbuster like its previous chapter or not …?
---
IT: Chapter Two 06 September 2019
---