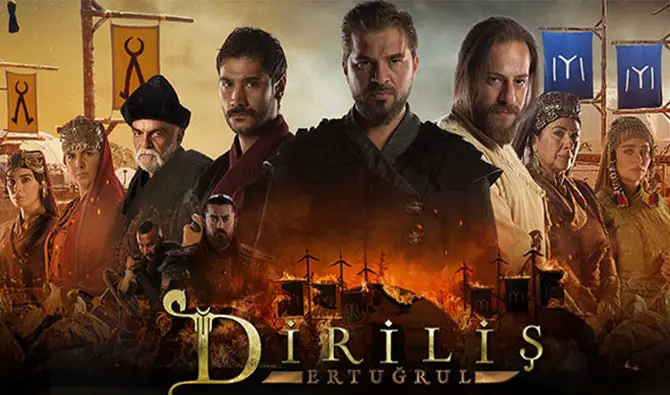 Dirilis Ertugrul is a Turkish fiction TV series based on Islamic history, breaking all world records of most viewership. The series is about warrior "Ertugrul" from the 12th century, one of the most famous warriors of his time in Muslim Oghuz Turks. Dirilis Ertugrul was the father of Osman (the founder of the Ottoman Empire).
In Dirilis Ertugrul, Muslim Oghuz Turks battled against Mongol invaders, Christians, Byzantines and the Knights Templar.
This series has 5 seasons and 150 episodes with full of action, adventure and sword fight.
Dirilis Ertugrul started aired from 2014 to 2019 each season in a year; list of all episodes.
In Pakistan Dirilis Ertugrul became famous when Pakistan Television aired the series in local language (Urdu) in April 2020, on the recommendation of Prime Minister Imran Khan.
According to "The Ranking", Pakistan is on top 10 countries of most viewership of 200 million hits in 2020.
Second country is India where Dirilis Ertugrul is most watched with 115 million views.
On third Turkey itself with 106 million views of this series.
Adding up top 10 countries viewership, makes it unbelievably more than 650 million views.
Because Dirilis Ertugrul is dubbed in many languages of the world and is watched in almost all over the world, so the actual audience is more than that.
So by the mid of 2020, Dirilis Ertugrul is most watched TV series competing Hollywood top seasons like Game of Thrones (around 10 million viewers on HBO legally and estimated 200 million viewers illegally), Lost (around 19 million viewers), CSI Miami (around 63 million viewers).
You can also watch all seasons of Dirilis Ertugrul on Netflix.
Top Gun: Maverick 2020 | Hollywood Blockbuster