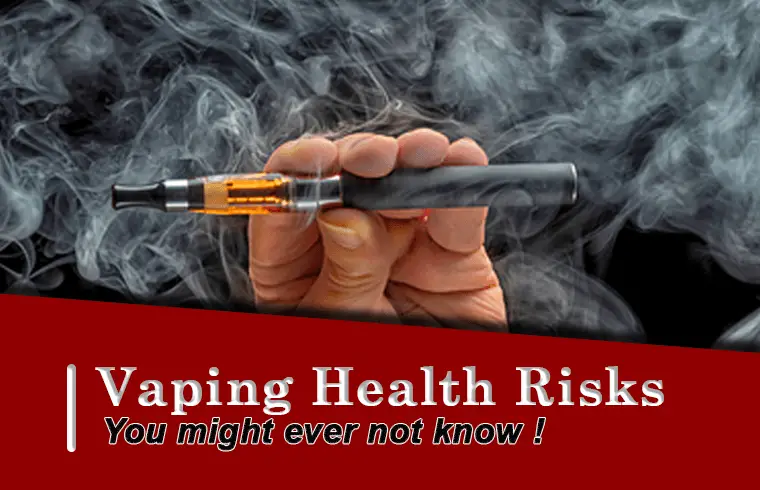 Vaping is currently an emerging topic of discussion due to its increasingly acceptance in smokers specially youngsters. One reason of high acceptance of vaping among the smokers is due to its perceived value of less health risks. Other reason may be vaping is considered as cost effective than conventional smoking. Anyway we'll find some evidence based facts in this article to explore whether Vaping is safe or not? Or to which extent Vaping Health Risks are involved?
What is Vaping?
The word "Vaping" is derived from vapor. So the term "Vaping" refers the practice of inhaling and exhaling the vapor produced by an electronic cigarette or similar device. The devices use small batteries to make vapors of liquid that contain highly concentrated nicotine and or marijuana solution with propylene glycol (PG), vegetable glycerine (VG) and different flavors.
Electronic cigarettes (e-cigarettes)- are also called vapes, tank systems, e-hookahs, vape pens, mods, and electronic nicotine delivery systems (ENDS).
Vaping is for Recreational or Medicinal use?
Among current users, 10.5% reported medicinal-only use, 53.4% reported recreational-only use, and 36.1% reported both.[1]
So majority of young age, specially students are vulnerable to vaping. Parties and friend's gatherings are influencing the use of vaping, just for recreation, fun and fashion.
Vaping Health Risks
There are some Vaping Health Risks highlighted by University of Texas, MD Anderson Cancer Center: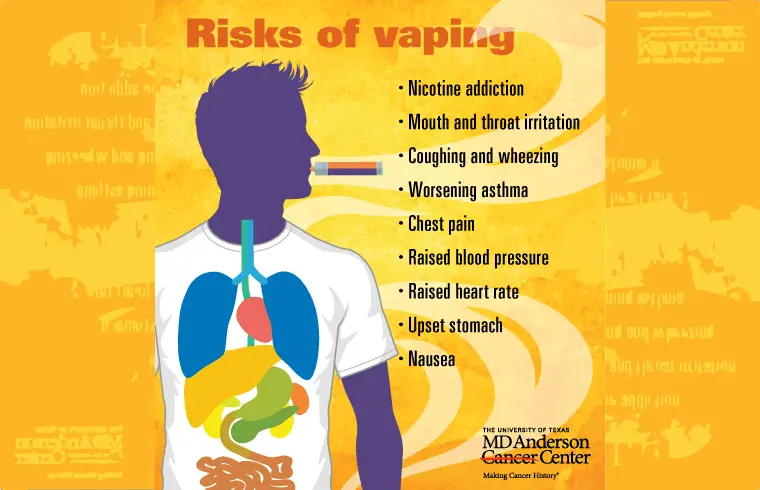 Vaping health risks may include;
Nicotine Addiction- Vaping may addict you to nicotine.
Mouth and Throat Irritation- Due to excessive use of aerosols of nicotine and other compounds in vaping liquid, you may suffer from mouth and throat irritation.
Coughing and Wheezing- Vaping can induce episodes of cough and it may cause wheezing (breathing with a whistling or rattling sound in the chest).
Worsening Asthma- Due to nicotine and other inflammatory substances, lungs passage narrows down for inhaling the air that may cause or worsen the asthma.
Chest Pain- Vaping may also cause chest pain due to poor circulation of oxygen in lungs and muscles weakness.
Raised Blood Pressure- Nicotine and other substances inhaled may cause elevation in blood pressure.
Raised Heart Rate- Due to poor oxygen level heart has to work more to supply oxygen demand of cells of body.
Upset Stomach- Vaping may also affect stomach function.
Nausea- Nicotine is responsible to cause nausea.
Acute Nicotine Toxicity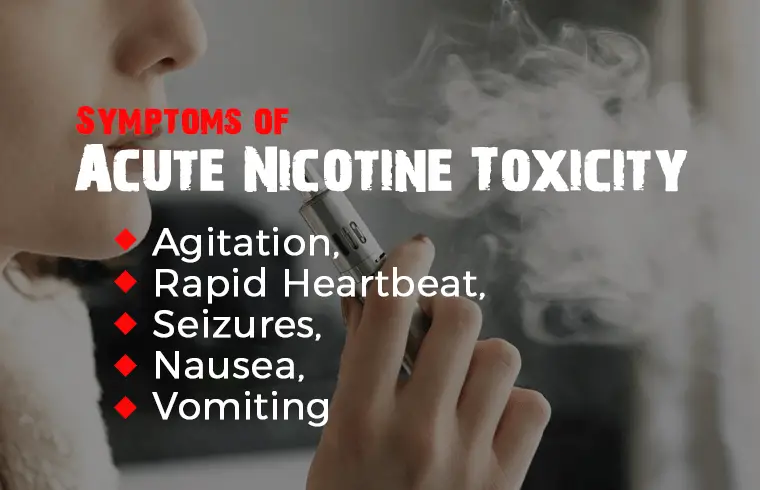 Acute Nicotine Toxicity results in severe symptoms of agitation, rapid heartbeat, seizures, nausea, and vomiting.
1 teaspoon (5 ml) of a 1.8% nicotine solution can kill a 90-kg person.[2][3].
Is Passive Exposure of Vaping Harmful?
Not only Active exposure has substantial health risks but passive exposure to e-cigarettes also has adverse effects on health. A study, published in Public Health Research and Practice on April 2016, found that the absolute impact from passive exposure to e-cigarettes vapor has the potential to lead to adverse health effects. [4]
What Family Physicians say about Vaping?
A study was conducted in 2014, in Flanders. Participants were Tobacco counselors and GPs-Family Physicians. Out of 54 about 70% believed that e-cigarettes are harmful to vapers (who vapes), and about half to two thirds believed that e-cigarettes are carcinogenic, increase cardiovascular risk, and increase the risk of chronic lung disease. [5]
Outbreak of Vaping
Reports to U.S. poison control centers of possible nicotine toxicity tripled from 2012 to 2013.[6][7]
As of November 20, 2019, 2,290 cases of e-cigarette, or vaping, product use associated lung injury (EVALI) have been reported to CDC from 49 states (all except Alaska), the District of Columbia, and 2 U.S. territories (Puerto Rico and U.S. Virgin Islands).[8]
Forty-seven deaths have been confirmed in 25 states and the District of Columbia due to Vaping (as of November 20, 2019).[8]
New findings of CDC
CDC has identified vitamin E acetate as a chemical of concern among people with e-cigarette, or vaping, product use associated lung injury (EVALI). 
Recent CDC laboratory testing of bronchoalveolar lavage (BAL) fluid samples (fluid samples collected from the lungs) from 29 patients with EVALI submitted to CDC from 10 states found vitamin E acetate in all of the samples. Vitamin E acetate is used as an additive, most notably as a thickening agent in THC-containing e-cigarette, or vaping, products.[8]
The liquid can contain: nicotine, tetrahydrocannabinol (THC) and cannabinoid (CBD) oils, and other substances and additives. THC is the psychoactive mind-altering compound of marijuana that produces the "high".[8]
According to CDC, "Vitamin E acetate usually does not cause harm when ingested as a vitamin supplement or applied to the skin. However, previous research suggests when vitamin E acetate is inhaled, it may interfere with normal lung functioning."
Symptoms of Lung Injury Reported by Some Patients in This Outbreak
1- Patients in this investigation have reported symptoms such as:
cough, shortness of breath, or chest pain nausea, vomiting, abdominal pain, or diarrhea fever, chills, or weight loss.
2- Some patients have reported that their symptoms developed over a few days, while others have reported that their symptoms developed over several weeks.
3- A lung infection does not appear to be causing the symptoms.
Conclusion
Vaping has several health risks unlike nicotine patches or nicotine gums and other products designed to help smokers wean off nicotine.
e-cigarettes are dangerous- known to explode and are poisonous if come in contact with eyes. It can be lethal if you accidentally or deliberately drink it.
If you are smoker then prefer Prescription or Over The Counter smoking cessation products instead of e-cigarettes of unknown substances of retails or refilled packs.
Here are some FDA-approved nicotine replacement therapies, which you can use with the consultation of your doctor to strike out smoking.

References:
[1]- Gillian L.Schauer PhD, MPH, Brian A.King PhD, MPH, Rebecca E.Bunnell ScD, MEd, Gabbi Promoff MA, Timothy A.McAfee MD, MPH. Toking, Vaping, and Eating for Health or Fun: Marijuana Use Patterns in Adults, U.S., 2014. Crossref
[2]- Adrienne Hughes, Robert G. Hendrickson. (2019) An epidemiologic and clinical description of e-cigarette toxicity. Clinical Toxicology 57:4, 287-293. Crossref
[3]- Tetiana Korzun, Ian Munhenzva, Jorge O. Escobedo, Robert M. Strongin. (2019) Synthetic food dyes in electronic cigarettes. Dyes and Pigments 160, 509-513. Crossref
[4]- Isabel MR Hessa, Kishen Lachireddya and Adam Capona. A systematic review of the health risks from passive exposure to electronic cigarette vapour. Crossref
[5]- Dinska Van Gucht & Frank Baeyens; Health professionals in Flanders perceive the potential health risks of vaping as lower than those of smoking but do not recommend using e-cigarettes to their smoking patients. Crossref
[6]- Gerdinique C. Maessen, Anjali M. Wijnhoven, Rosalie L. Neijzen, Michelle C. Paulus, Dayna A. M. van Heel, Bart H. A. Bomers, Lucie E. Boersma, Burak Konya, Marcel A. G. van der Heyden. (2019) Nicotine intoxication by e-cigarette liquids: a study of case reports and pathophysiology. Clinical Toxicology 42, 1-8. Crossref
[7]- Drahoslava Hrubá. (2019) A Billion Lives: a masterpiece of propaganda by the tobacco industry. Hygiena 64:2, 72-75. Crossref
[8]- Outbreak of Lung Injury Associated with the Use of E-Cigarette, or Vaping, Products. https://www.cdc.gov/tobacco/basic_information/e-cigarettes/severe-lung-disease.html